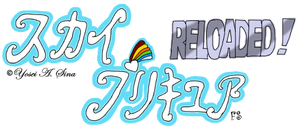 Sky Pretty Cure RELOADED! (スカイプリキュアRELOADED!, Sukai Purikyua RELOADED!?) is the third season of the Sky Pretty Cure Series. RELOADED! features new powers that the rainbow Cures have to face during their fights. RELOADED! is also seen as the prequel to the final season of the Series for some people. Sky Pretty Cure RELOADED! brings the theme of music into the world of Sky Pretty Cure. Besides the sky and colors, sounds and feelings are also part of the motif of the season.
Sky Pretty Cure RELOADED! is the third season of the Series, being the successor of the second season Sky Pretty Cure ~Rainbow Star~ and the predecessor of the fourth season The Final Sky Pretty Cure.
Story
Separated from their magical friends, the girls are surprised by a little fairy from the Rainbow Harmony Heaven, who seaks for Pretty Cure's help. Telling that the mystical tunes disappeared, Melody warned them that a new threat will appear soon to attack them. Teaming up with Scarlet and the others again, Ruby and her friends are facing an adventure of music and normal school life, which can't be more messed up. However, they soon discover, that fighting the Cursed Tunes will be not as easy as thought...!
Media
Episodes
Main article: Sky Pretty Cure RELOADED! Episodes
Cast
Main article: List of Voice Actors
Merchandise
Main article: Sky Pretty Cure RELOADED! Merchandise
Music