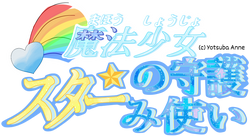 Guardian Angels Of The Stars「スターの守護み使い」 is the second season of the Guardian Angels Of The Sky series. The season was formerly called Sky Pretty Cure ~Rainbow Star~ and was told as a future season of the Pretty Cure franchise.
The story of Guardian Angels Of The Stars will include two more magical warrioes, who will team up with the Guardian Angels in order to defeat an old rival. Like its predecessor, this season includes funny scenes and discussions also romantic as well as the girls start thinking about their futures.
Guardian Angels Of The Stars is the processor to Guardian Angels Of The Sound. The season shares their main themes with the series itself, which are colors, jewels and the sky.
Story
After the Pretty Cures have defeated Catastrophe and thought that they had saved the world of light, a new threat appears. Known as Black Diamond, the lady announces that she will make sure to defeat the forces of Pretty Cure. Feeling this crisis, two fairies from Skyriver went to earth along with the Rainbow pact to support the Sky Pretty Cures. But as they arrived, they were almost captured by Black Diamond. However, the two fairies were saved as new Pretty Cures appear...!
Media
Episodes
Main article: Guardian Angels Of The Stars Episodes
Cast
Main article: List of Voice Actors
Merchandise
Main article: Sky Pretty Cure ~Rainbow Star~ Merchandise
Music
Movies